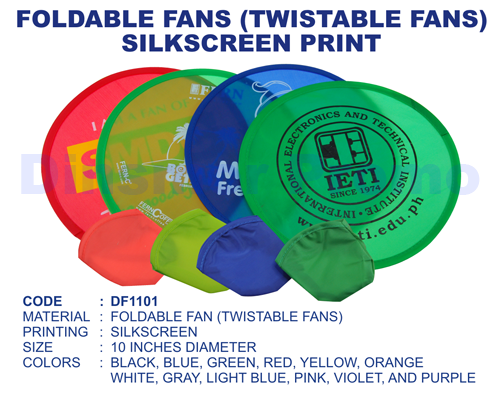 FOLDABLE FANS (TWISTABLE FANS) - DF1101
Product Description
PRODUCT INFORMATION
Item Code
:
DF1101
Item Name
:
Foldable Fan (Twistable Fans) Silkscreen Print
Colors Available
:
Black, Blue, Gree, Red, Yellow, Orange, White, Gray, Light Blue, Violet and Purple
Material
:
Foldable Fan (Twistable Fans)
Dimensions
:
10 Inches Diameter
Printing
:
Silkscreen Printing
Max. Printing Color
:
3 Colors
Imprint Area
:
 
Features
:
 
Limitations
:
 
 
 
 
PACKAGING & SHIPPING INFORMATION
Bulk Pakaging
:
 
Packaging Dimensions
:
 
Weight
:
 
 
 
 
OTHER INFORMATION
1) Prices may differ, depends in number of color print, lead time and print size.
2) Please contact us for product and color availability, include your logo on email
    for faster quotation.